Reservation
S155 Electron Microscopy Lab
Please reserve the experimental equipment in the S155 room using the S155 reservation system. VPN connection is mandatory from off-campus.
---
S243 Laboratory 1(Biochemistry Lab)
S245 Electron Microscopy Lab
S247 Laboratory 2(Anatomy Lab)
S038 Laboratory 1(Plant culture Lab)
【How to reserve the equipment】
You need Gmail account for reservation. Please send your Gmail account to the administrator (Tatsuya Awano, awano.tatsuya.7z[at]kyoto-u.ac.jp, replace [at] to @).
Follow the invitation email from Google and add a calendar named "Reservation – TCB" to your Google Calendar.
You can find a calendar "Reservation – TCB" in your calendar list.
When adding a reservation, please fill in English in the format of "device name @ room number: user name".

Example: Ultracut E @ S247: Awano Tatsuya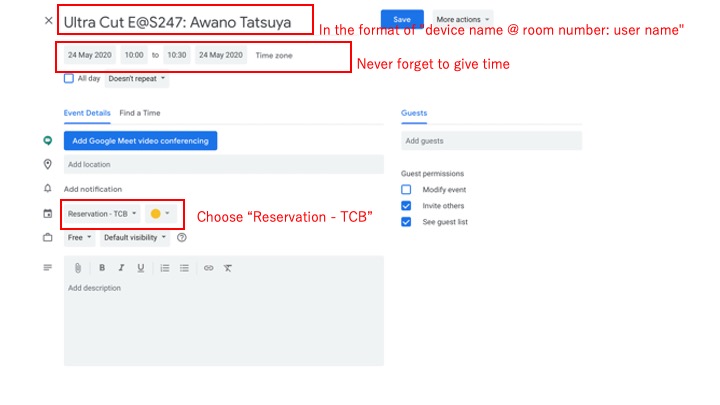 【Equipment able to be reserved】
Reservation is mandatory for experimental equipment written in red.
S243

fume hood(fume hood@S243)
thermoblock(thermoblock@S243)
gas chromatograph(GC@S243)
high-performance liquid chromatograph(HPLC@S243)
ultra centrifuge(UltraCentrifuge@S243)
microplate reader(800TS@S243)
microplate washer(AMW-8R@S243)
fluoro imager(LAS1000@S243)
lenar slicer(LinearSlicer@S243)
bioshaker(BR43FL@S243)
freeze dryer(freeze dryer@S243)

S245

cryo porter(CS80-CP@S245)

confocal laser scanning microscope(FV300@S247)
epi-fluorescence microscope / light microscope(DP72@S245)
epi-fluorescence microscope / light microscope(DP74@S245)
polarized light microscope(POL@S245)

S247

fume hood(fume hood@S247)
trimming table(trimming@S247)

sliding microtome TU-213(TU-213@S247)

retoratome REM-710 (East) (REM-710-1@S247)
retoratome REM-710 (West) (REM-710-1@S247)

rotary microtome(JB4@S247)

ultra microtome(Ultra Cut E@S247)

S038

clean bench(clean bench@S038)

autoclave(autoclave@S038)